The fight against the financing of terrorism and money laundering is a battle against financial opacity. Allowing an individual to hide behind complex cross-border financial structures encourages fraudulent practices.
A major priority for the global financial system, the AML/CFT* policy is based on a number of measures, which are constantly being reinforced, to reduce risks.
Among these measures, the identification of companies' beneficial owners is essential.
*AML/CFT: Anti-Money Laundering - Financing of Terrorism
What is a beneficial owner?
The beneficial owner is defined as the natural person(s) who directly or indirectly owns or controls the target company. Under no circumstances can it be a legal entity. There are three types of beneficial owner:
the natural person(s) who holds, directly or indirectly, more than 25% of the capital or voting rights of the target company;
the natural person(s) who exercises, by other means, a power of control over the management, administrative or executive bodies of the target company or over the general meeting of its associates or shareholders;
only in the absence of identification of a beneficial owner according to the two preceding criteria, the natural person(s) who directly or indirectly (through one or more legal entities) occupies the position of legal representative of the target company.
For companies without capital (sole proprietorships, associations, etc.), the beneficial owners are the legal representatives of the target company.
Why is a beneficial owner sought?
For a financial institution or a company, it's essential to know who you're dealing with. For any third-party company (customer, supplier, partner), you need to know which individual(s) own(s) or control(s) this third-party company. Failure to do so may result in sanctions for corruption, money laundering or tax fraud, as well as reputational risks that are often irrecoverable.
Case study :
The start-up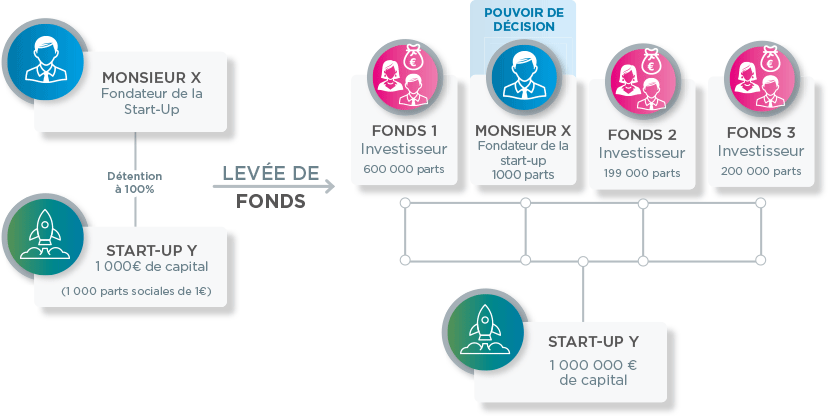 Mr X created a start-up with €1,000 in capital. As his business grows, he needs to call on investors.
The investors contribute capital and receive shares in the company in exchange. Mr X thus becomes a minority shareholder in the capital. However, the shares he holds are known as "preference shares" (ADP).
In conclusion, Mr X is a minority shareholder, but his shares give him more power than the other shareholders (ordinary shares).
Dismemberment of shares
As in the case of real estate, shares in a company can be co-owned: in bare ownership and in usufruct.
Any person who holds usufruct or bare ownership of more than 25% of a company's shares must be considered a beneficial owner.
Indivision
When a shareholder dies, an indivision succession is created.
If the undivided interest holds more than 25% of the company's shares, each member must be considered a beneficial owner. Similarly, if a shareholder owns less than 25% of the shares individually, but is part of an undivided joint venture that is also a shareholder, he or she will be a beneficial owner if the aggregate represents more than 25% of the company's shares.
In conclusion...
When searching for beneficial owners, it is essential to be precise and to have reliable, dated and sourced information. The identification of the shareholder chain that makes it possible to identify the beneficial owner is essential. Indeed, the quality and freshness of incoming data must be beyond reproach to guarantee healthy, long-term relationships between economic players.
Human expertise lies at the heart of this analysis. The structuring of data by humans is inseparable from the calculation work carried out by machines. That's why today at Ellisphere, this human-machine complementarity gives us optimum access to reliable information on beneficial owners.
Our support dedicated to compliance
Discover Ellisphere's expertise on your compliance issues and master your due diligence...
Our Compliance approach